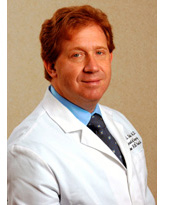 Mitchell S. Roslin, MD, FACS
View our
Video Gallery Presentation
on Dr. Roslin
Mitchell S. Roslin, MD has dedicated his professional career to the treatment of morbid obesity. Dr. Roslin has been performing obesity surgery in New York City since 1994. In 1996, he was made the Director of Bariatric Surgery at the Maimonides Medical Center. In 2000 he was appointed the Chief of Obesity Surgery at Manhattan's Lenox Hill Hospital and has supervised its growth into one of the most prestigious programs in the United States. Considered one of the best bariatric surgeons in New York, Dr. Roslin is also the President of Manhattan Minimally Invasive and Bariatric Surgery P.C.
Dr. Roslin was born in Brooklyn, New York. He graduated from Stuyvesant High School and did his undergraduate studies at the University of Pennsylvania. He attended medical school at New York University and did his surgical training at Maimonides Medical Center.
Dr. Roslin has received numerous awards during his career. He was named one of New York's best minimally invasive surgeons by New York Magazine and has been on both Castle Connolly's and New York Magazine's best doctors lists.
Additionally, he has been an innovator in the search for better treatments. He holds several patents in the emerging field of pacing technology for the treatment of obesity. Most recently he has designed a method for the endoscopic treatment of relapse following gastric bypass.
Dr. Roslin has been performing laparoscopic obesity surgery in New York City since 2000. He was part of the
LAP
-BAND® System clinical trial and has expertise in duodenal switch and revisional bariatric surgery.
Dr. Yatco is a board certified surgeon specializing in bariatric surgery and minimally invasive surgery at Lenox Hill Hospital. He has performed laparoscopic obesity surgery since 2002.
Prior to his recruitment to Lenox Hill Hospital, Dr. Yatco was a principal bariatric surgeon at The Westchester Medical Center in Valhalla, New York and performed over seven hundred laparoscopic bariatric procedures including laparoscopic Roux-en-Y gastric bypasses, laparoscopic insertions of adjustable gastric bands, bilio-pancreatic diversions, and sleeve gastrectomies. He served as an Assistant Professor of Surgery at The New York Medical College and was involved in the training of residents in general surgery and instructed surgical fellows on how to perform bariatric and minimally invasive surgery at The Institute of Minimally Invasive Surgery. He has published numerous articles and has spoken at national conferences on the subjects of laparoscopic surgery and obesity surgery.
Dr. Yatco graduated from Colgate University with a degree in molecular biology and has several publications in biomedical science from research performed at The Rockefeller University and The Albert Einstein College of Medicine. He received his medical degree with a Distinction in Research from The State University of New York at Stony Brook School of Medicine. After his general surgery residency at St Vincent's Catholic Medical Center in New York City, he completed a fellowship in minimally invasive and bariatric surgery at The Institute of Minimally Invasive Surgery at The Westchester Medical Center.
Dr. Yatco was named in the 2004-2005 edition of Strathmore's Who's Who and is a member of the Society of American Gastrointestinal Endoscopic Surgeons, The Society of Laparoendoscopic Surgery and the American Society for Metabolic and Bariatric Surgery.