Dr. Filippo Filicori, M.D., F.A.C.S.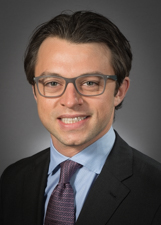 Dr. Filippo Filicori is a Board Certified Minimally Invasive Surgeon who specializes in Robotic, Laparoscopic and Endoscopic treatment of Obesity and Disorders of the Upper Gastrointestinal tract. He graduated Medical School Summa cum Laude from the University of Bologna (Italy) before completing a year of post-doctoral research and a General Surgery residency at Weill Cornell Medical College and Memorial Sloan Kettering Cancer Center in New York, NY. He then obtained further fellowship training in Minimally Invasive Surgery at The Oregon Clinic in Portland, OR.
Dr. Filicori offers several treatment modalities for weight loss including Intragastric Baloon placement, Endoscopic Sleeve Gastroplasty, Robotic Sleeve Gastrectomy, Robotic Gastric Bypass and Robotic Duodenal Switch as well as Revisional Surgery in cases of persistent weight gain.
Dr. FIlippo Filicori also specializes in the treatment of disorders of the Upper Gastrointestinal tract such as Reflux (GERD), Stomach Cancer, Achalasia, Esophageal Spastic Disorders and Gastroparesis for which a wide range of options are available (Robotic fundoplication, LINX device, TIF, POEM, Pyloroplasty and Gastric Stimulator).
His primary research interests are Robotic Bariatric Surgery including metabolic outcomes of Bypass Gastric and Sleeve Gastrectomy as well as minimally invasive outcomes for the treatment of reflux and gastroesophageal neoplastic and dysmotility disorders (Gastric Cancer, GERD, Achalasia, Barrett's esophagus, Nutcracker Esophagus, Gastric polyps, Gastroparesis). On these topics he has authored more than 20 publications on Peer reviewed International Journals, 30 presentations at international meetings and 2 book chapters.
Dr. Filicori is a member if the American College of Surgeons (ACS), the American Society for Metabolic and Bariatric Surgery (ASMBS), the Society of American Gastrointestinal and Endoscopic Surgeons (SAGES), the Society for Surgery of the Alimentary Tract (SSAT) and the European Association of Endoscopic Surgery (EAES).
To learn more about Dr. Filippo Filicori, please call us at 1-888-949-9344 or fill out our online contact form.