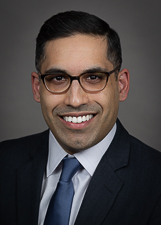 Vikrom Dhar, MD is a board certified and fellowship trained Bariatric and Minimally Invasive surgeon at Lenox Hill Hospital in the Upper East Side. He specializes in bariatric and weight loss surgery as well as gastroesophageal motility disorders, achalasia, gastroesophageal reflux disease, paraesophageal and hiatal hernias, abdominal wall and inguinal hernias, gallbladder disease, appendicitis, diverticulitis, and gastrointestinal cancers.
After completing undergraduate studies in Biomedical Engineering from the University of Michigan, Dr. Dhar earned his medical degree from the Michigan State University College of Human Medicine. He completed his general surgery residency training at the University of Cincinnati, where he was elected the Administrative Chief Resident. During this time, he also completed dedicated research fellowships with the Cincinnati Research on Outcomes and Safety in Surgery (CROSS) and Cincinnati Collaborative for Obesity Research (CCORE) groups. Following residency, he completed an Advanced Gastrointestinal, Bariatric, and Minimally Invasive Surgery fellowship at New York Presbyterian Hospital – Weill Cornell Medical Center and Memorial Sloan Kettering Cancer Center.
Dr. Dhar utilizes state of the art robotic and minimally invasive surgery techniques for procedures including sleeve gastrectomy, roux-en-y gastric bypass, and duodenal switch to offer patients less pain, faster recovery, and improved cosmesis compared to traditional surgical approaches. He strongly believes in tailoring comprehensive individualized care plans for each patient to achieve successful outcomes while providing thoughtful and compassionate care.
Dr. Dhar has authored over 45 publications in peer-reviewed journals and has given over 50 presentations at local, regional, and national surgical meetings. He has been awarded numerous honors including the Society for Surgery of the Alimentary Tract Residents and Fellows Research Conference Presentation Award, Central Surgical Association Best New Member Paper Award, induction into Alpha Omega Alpha, and the University of Cincinnati Max Zinninger Award, given annually to the resident "who, in the opinion of the faculty, is tenacious and meticulous in patient care, knowledgeable, exemplifies professionalism, and is ceaseless in his promotion of the department".
Dr. Dhar is board certified in General Surgery and holds certifications in Fundamentals of Laparoscopic Surgery and Fundamentals of Endoscopic Surgery. He is an active member of the American College of Surgeons, Society of American Gastrointestinal and Endoscopic Surgeons, American Society for Metabolic and Bariatric Surgery, and Society for Surgeons of the Alimentary Tract.
Ready to take the first step to weight loss & better health?