Lap-Band Surgery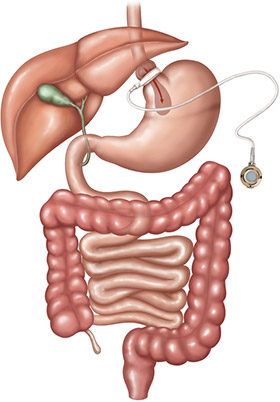 Laparoscopic adjustable gastric banding or Lap-Band surgery is a weight loss operation that has been performed since 1993. The LAP-BAND® Adjustable Gastric Band was introduced in the United States during clinical trials that were under FDA review. Lenox Hill Hospital was one of the clinical trial sites.
The LAP-BAND® Adjustable Gastric Band was approved for wide distribution by the FDA in 2001. According to the manufacturer of the LAP-BAND® Adjustable Gastric Band, they have been placed in over 300,000 patients worldwide.
The LAP-BAND® System is used at our Manhattan bariatric surgery practice in New York City. It has a silicone balloon which can be inflated by injecting sterile saline into a subcutaneous port. Inflating the band restricts the passage of food into and through the stomach and reduces the amount that a person needs to eat in order to feel full. Weight loss occurs because people get full much faster, therefore less food is ingested. The LAP-BAND® Adjustable Gastric Band is inflated in an outpatient setting in established increments over a period of time to provide continued weight loss. Weight loss results average 60-68% of excess weight at 2-3 years.
Benefits of Lap-Band Surgery
Can be placed laparoscopically.
The intestines are not re-routed.
It is adjustable and reversible.
Weight loss is gradual which can decrease formation of gallstones.
Nutritional deficiencies are less likely because malabsorption does not occur.
Risks of Lap-Band Surgery
Injury to the stomach at the time of surgery can occur.
The band can become infected which would require re-operation for removal.
The band can "slip" which would require further surgery to correct.
There is a 3-10% major complication rate which may require further surgery.