Gastric Sleeve Surgery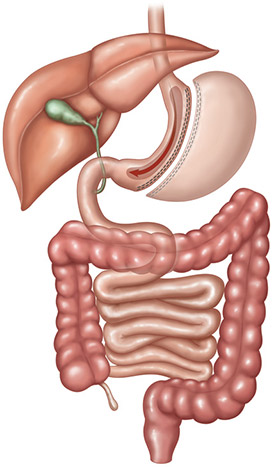 Bariatric gastric sleeve surgery (a.k.a. laparoscopic sleeve gastrectomy or vertical sleeve gastrectomy) transforms the existing, pouch-shaped stomach into a long tube or "sleeve" shape, while the remainder of the stomach tissue is completely removed. The newly-formed stomach has a capacity of about 100 – 120 cc in volume, which severely restricts the amount of food that can be consumed.
The gastric sleeve surgery preserves the pylorus, the valve that regulates emptying of the stomach, which acts as "nature's band". This allows the normal process of stomach emptying to continue, providing patients with the feeling of fullness after consuming relatively small quantities of food – this leads to a dramatic reduction in the total caloric intake of the patient.
It can be done either as a stand-alone procedure or as part of a staged operation for patients who have a body mass index (BMI) of 60 or greater. In these cases, patients first undergo a gastric sleeve procedure to provide the patient with the opportunity to lose enough weight so they can then have a second procedure completed to install a gastric band.
The weight loss with gastric sleeve surgery is projected to be in the range of 55 to 70 percent of excess body weight. There is no malabsorption created as a result of gastric sleeve surgery, and no foreign body or implant is involved.
In most patients, the size of their post-surgical stomach is about 15 – 20 percent of its original size.
Advantages of Gastric Sleeve Surgery
While the outcomes of each surgical procedure is dependent on the unique qualities of individual patients and their compliance with post-surgical dietary and exercise guidelines, generally speaking, most people who undergo gastric sleeve surgery experience rapid weight loss following their weight-loss operation.
Another notable feature of gastric sleeve surgery is the fact that a large portion of the existing stomach tissue is removed, resulting is a notable reduction in the production of hunger-inducing hormones secreted by the stomach tissue. This hormonal change, when combined with the physical sensation of fullness that patients achieve after eating small portions, helps gastric sleeve recipients achieve good long-term control over their weight.
It is important to note that in addition to the usual risks associated with surgery and general anesthesia, patients must take care to follow post-surgical dietary and exercise guidelines in order to achieve satisfactory long-term outcomes from gastric sleeve surgery. Patients who overeat after having a sleeve gastrectomy can stretch out the newly-formed stomach and increase its capacity, leading to overconsumption of food and a rise in their body mass index.
Dr. Roslin of New York's Lenox Hill Hospital has long been closely involved in the development of the sleeve gastrectomy. To learn more about the gastric sleeve surgery and other weight-loss surgery options, contact us to enroll in our free weight loss seminar here at the Manhattan Minimally Invasive & Bariatric Surgery Center in New York City, or give us a call at 1-888-WHY-WEIGHT (1-888-949-9344).