SIPS Procedure for Weight Loss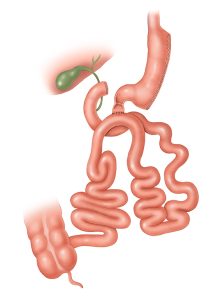 Lenox Hill Hospital has pioneered Single Anastomosis Duodenal Switch, also known SADS or SIPS procedures. In fact, this innovative operation was actually named here. Dr. Roslin is considered one of the originators, and is the Principal Investigator in the national multi-site clinical trial. Our facility is a major training center for other surgeons and their nutritional teams. Due to its advantages, this operation is now popular all over the world, and the research at Lenox Hill is largely responsible.
Are you ready to reclaim your health? The team at Lenox Hill Bariatric Surgery Program is happy to help you achieve the body you've always wanted with SIPS bariatric surgery.
What Is SIPS Bariatric Surgery?
Also known as the Single-Anastomosis Duodenal Switch, this duodenal switch surgery (SIPS) delivers both stomach restriction and decreased absorption. The first part of the surgery is performed by reducing the size of the stomach, which is similar to the sleeve gastrectomy, but larger in volume.
In the second part of the surgery, the duodenum is separated, just below the pyloric valve, from the remaining intestinal tract. Around 300 centimeters of the small intestine is measured from the terminal ileum and that loop is connected to the stomach. This longer channel leads to greater absorption of nutrients and vitamins and fewer bowel movements compared with the regular Duodenal Switch procedure (DS).
Another important difference between the SIPS and DS is that there is only one opening between the stomach and the small intestine as opposed to two in the classic DS. The creation of the Roux limb is also avoided in this procedure, which is anticipated to reduce the risk of bowel obstruction. SIPS is a logical modification of the existing operation that seeks to reduce the complications related to roux limbs and reduce diarrhea, helping patients maximize the benefits from DS surgery.
What Is SIPS Surgery Like?
SIPS surgery is very similar to other forms of bariatric surgery, like Roux-en-Y gastric bypass or sleeve gastrectomy procedures. Surgeries take place laparoscopically or robotically, meaning that the process is minimally-invasive for optimal recovery.
SIPS procedures are often slightly longer than other forms of bariatric surgery, lasting three to four hours. However, hospital stays are short, with most patients returning home in 48 to 72 hours.
What Are the Benefits and Risks of SIPS Bariatric Surgery?
Just like standard duodenum bypass surgery, there are both risks and benefits to consider in SIPS surgery.
Patients who undergo SIPS surgery can expect advantages including:
Weight loss greater than VSG or RYGB
Higher resolution of diabetes
Research suggests lower rates of ulcers, strictures and small bowel obstruction
Less fluctuations in blood sugar than gastric bypass
Similar weight loss than classic DS, with suggestion of lower complications.
There are potential risks for those undergoing bariatric surgery of any kind. Patients choosing SIPS should consider the following:
Potential risk of nutritional deficiency
Less long term data than classic DS or RYGB as the procedure is newer.
If you are seeking a New York City resource for your weight loss ambitions, Lenox Hill Bariatric Surgery Program can help you see success with SIPS surgery. Schedule an Educational Bariatric Seminar or give us a call at 1-888-949-9344 to learn more!
* Results may vary.